Joined

Jul 27, 2012
Messages

1,835
Reaction score

1,149
Hello members of RaGEZONE and Free MMO Servers community!
Before I start I'm going to clearly state that this thread is not some kind of rule you must follow. It's advice on how to make an advert for your server that other members can clearly read and understand. You can choose to learn from this thread or simply ignore it and move onwards but please remember to READ THE RULES before posting as your server advertisement may not meet the requirements it should.
Free MMO Servers section rules! Click me!
First of all is your title. Taken from the Free MMO Servers rules, here are some examples of good titles for your thread (credit to whoever added these to the rules):
RageZone Flyff Exp 200x | Drop 300x | Penya 200x | Custom Maps[PvP][v20]
Rage Hotel 20 000 coins daily | 100 active members | New rooms | Unique furniture | Hamachi
If your server does not fit into any of our sub-sections (such as Habbo or MU) you must include a game tag at the beginning of your title. This must be done in the general section and Upcoming Servers section. For example, if you're advertising Black Desert Online; [Black Desert] BDO - Free To Play Server. You can also use tags to display your server's version (example [v1.3.3.7]) and/or language (example [RU/ES/PL/FR]).
Content Quality
Secondly, your overall content layout for your advertisement. I know it may seem boring putting a lot of effort into organizing your ad but if done correctly, your server will look more appealing to the reading audience. Now I'm not talking about eye burning colours or fancy text font (if you wanna do that, go for it anyway I guess), I'm talking about full sentences and organized paragraphs of each section of your ad. For example your server specifications. Each spec of the server you add to your thread, make it as a list so people can read each one with ease. Then make a seperate paragraph for your server rates, then site and forums links, screenshots etc... This will improve the look of your ad overall.
Content Quantity
Another important detail is how much content you're adding to the thread. As explained in the
Free MMO Servers
section's rules, the more descriptive the better. You're free to add as much description of the website and server as you want. You are not limited to a certain amount of content. If you feel that something needs to be added regarding your server, throw it in there!
Screenshots
This is one of the main requirements that server owners miss out! As rules state, you must add at least 1 screenshot of an admin character saying 'Hello RaGEZONE' to your thread. How many screen shots you add is entirely your decision. This is to prove to us that you own the server and is a very important factor to a server ad in this section. Any further info on this can be found in our rules[/b]. Again, there is no limit to how many screenshots of your server you want to add to the thread. However just like your other content, you want them to be organized and neat. My advice for the placement of screenshots would be at the end of the thread after all of your now neatly positioned text. I would advise that if you're posting more than 5 screenshots you should use the [*spoiler][/spoiler] tags as they will then sit inside that spoiler. If you're unsure of how these work, let me show you an example.
[*spoiler]
[IMG*]Image URL[/IMG]
[IMG*]Image URL[/IMG]
[IMG*]Image URL[/IMG]
[/spoiler]
All you need to do in order for this tag to work is remove the '*' symbol from the tags then they should work like this.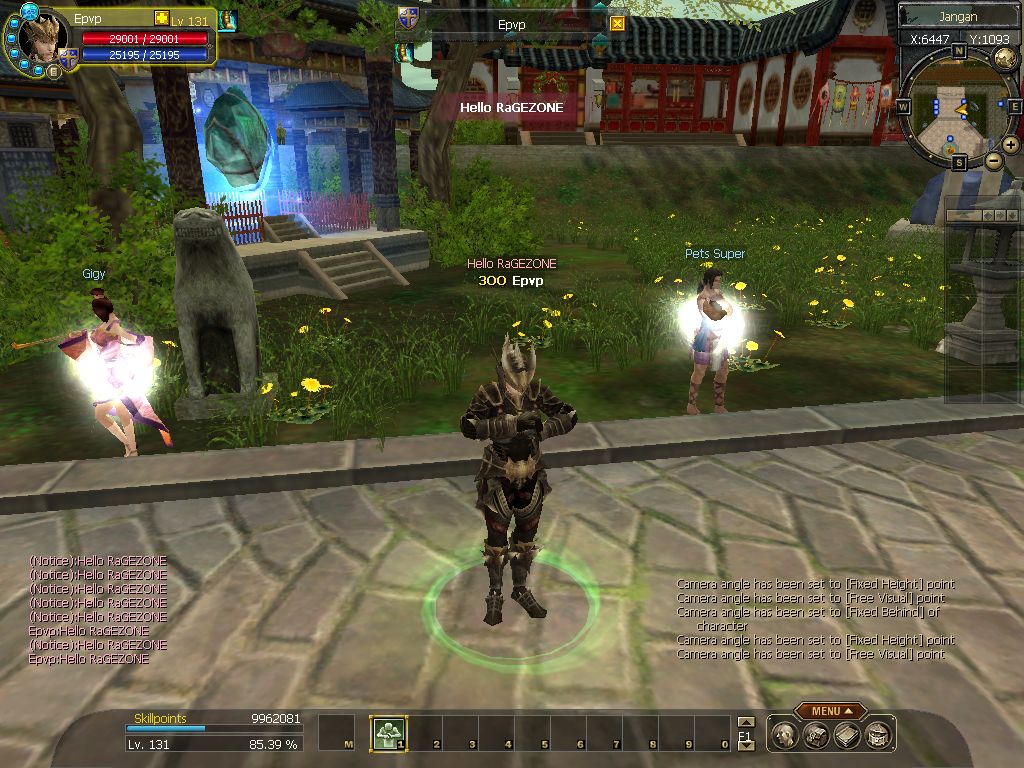 These pictures are only examples of in-game screen shots and have been taken from random server ads. Credits go to the server owners.
Web Links
Again, rules state that you're required to post the link of the website to the server and if possible, a link to the site's forums too (however this is optional). Links can be placed wherever you'd like them to be but try to make them stand out. Keep them spaced and use the [*B][/B] bold tags (they can be located as the 'B' when making a thread) and people will notice it easier. You can also put a link into an image at the top to make it look extra fancy. For example,
And there you have it. If there is anything you think would benefit the construction of an advertisement that I may have missed out then please feel free to message me. You will be credited for your ideas. If you haven't already, please check out the Free MMO Servers rules before posting an ad as this is only a guide with advice on how to construct a quality server advert.
I have picked out some good examples of advertisement threads from multiple section such as MU Online, Infestation MMO and GunZ. Feel free to take a look at them for some inspiration!
[AD]FMU-X |X20 | Drop : 20% | Season 13 Part 1-2 | Feb.23 |Highly Configured
[Flash] ReHabbo (.com) - r63b - Plus Emu & UberCMS
InfestationPVP | Custom Maps | Full PVP | UNLIMITED GD AND GC | 1$ Market!
[GunZ] Eagle GunZ | v1.5 | Anti-Lead | 24/7 Online | Play for Free!
Remember, quality and description quantity makes your advert more appealing to the audience and gives them a better understanding to what you're presenting them.
Follow this guide and you should have no problems when it comes to requirements and quality for your server advertisement. If you've read all the way up to now then thank you for taking the time to do so. It matters to us that you're taking this thread into consideration and we appreciate that.
Additional information:
If you wish to change the title of your advert, clean your advert of all comments or report a dead server, you can do so by posting here.

[Report Dead Servers/Links - Request a Clean/Title Change/Thread Archiving]

Thanks for reading!
Free MMO Servers staff.
Last edited: